Lidl – a sustainable store concept
2020-01-08
Company news
Simple and elegant, our range of aluminum facades and doors are a great solution for our next project in Sweden.
Category – commercial building
Location – Sigtuna Stadsängar, Sweden
Project partner – EAAB, Ekman & Angerstig AB
Architects – LINK Arkitektur
The chain store Lidl collaborated with LINK arkitektur to develop a new store concept with an exceptionally high sustainability profile. The first store is planned in Sigtuna Stadsängar and the building is to be environmentally certified in accordance with the requirements of BREEAM Excellent.
Image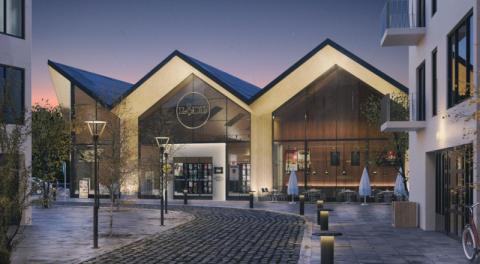 When winning the competition for land allocation in 2017, Lidl established its store in line with a concept that fulfils the city district's stringent environmental and sustainability requirements. The highly set sustainability goals entail, among other conditions, that the construction must not impact the location's rich biodiversity. This will be achieved by establishing ecozones around the building and planting a green roof. Solar panels will be placed on the southside of the roof to sufficiently generate energy savings in accordance with BREEAM Excellent. Visitors will be able to recharge their e-bikes and electric vehicles outside the store.
The requirements on eco-friendliness have helped to strengthen the building's architectural expression. The design of the roof is optimised for maximal exposure to the sun and the bearing timber structure, which comprises large beams and pillars, helps to create a visually eco friendly profile. The building was divided into several smaller sections to give it a small-town character. Its gable sides and saddle roofs form a sectioned facade collected under a folded roof. The building opens up to the adjoining square, through glassing in the facade and an additional roof extension. Recycled bricks will be used for street-facing facade sections without glassing.
The store concept is based on a traditional market hall, where several businesses operate under the same roof. To complement Lidl's own store section, other stores, such as a delicatessen with a market-hall character and a cafeteria will also be housed in the building. The proposed building will be spacious and feature a generous intake of light, which, combined with carefully selected natural materials, will create an attractive retail environment.
Discover more about this project on linkarkitektur.com.